Characters
Welcome to the Characters page. Here you can find all the necessary info about the characters mentioned so far in the comic. Now with new comment section!

Note: If you are new to the comic, be careful when reading the character sheets; they are updated with new information at the end of every chapter.

Note 2: The Characters page is being redesigned! Thank you for your patience during this trying time~
Main Characters

Ryan Laytey, 15. An unfortunate boy cursed with unending misery, at least according to him. His only hope is that things don't get worse for him. Jay Ambrose has been his best (if only) friend for years.

Age-in-Comic: 15 years, ~20 days
Height: 5' 11" / 180.34 cm
Weight: 133 lbs / 60.18 kg
Ancestry: Northern European--predominantly Irish, English

Favorite Food: Indiscriminately enjoys most sweet and/or spicy things. Particularly likes red velvet-style confections. (Believes the color red makes them taste better.)

Favorite Thundercat: Cheetara, because everyone knows that, all else being equal, super-speed is the best superpower. Also she's hot.

Fun Fact: Ryan has a very rich imagination, nurtured from hours and hours of solitary time spent reading fiction, playing videogames and watching TV and movies. He wants to be a writer himself when he grows up, and his Literature teacher thinks he can do it. His father is not as optimistic.


Jay Ambrose, 15. A carefree boy who's content to practice his cooking skills, help his mom, Therise, and play with his cat, Munch. He enjoys having Ryan try his food, too.

Age-in-Comic: 15 years, 1 month, ~17 days
Height: 5' 9" / 175.26 cm
Weight: 158.4 lbs / ~71.67 kg
Ancestry: Latin American--Maternally, Cuban, some Mexican. Unknown paternal European ancestry.

Favorite Food: Has learned to like most types of food due to his experience cooking. Prefers savory and spicy flavors.

Favorite Thundercat: The guy with the sword looks pretty cool.

Fun Fact: Jay's full name is Jaime Ramón Ambrose Morales. As requested by his biological mother, it is in the traditional Cuban format of "(first name) (middle name) (father's last name) (mother's last name)". However, for un-official purposes, he goes by the shorter version above. He personally prefers that version because it's easier to say.


The Fangirl, 15. An avid fan of BL (Boys' Love) literature, she yearns for a world more like those in the stories she reads.

Age-in-Comic: 15 years, 5 months, ~6 days
Height: 5' 8" / 172.72 cm
Weight: 135 lbs / ~61.09 kg
Ancestry: Western European--French, German

Favorite Food: Anything barbecued.

Favorite Thundercat: Tygra, since he's the smart, serious type. That also makes him a good counter to (and match for...) Lion-O.

Fun Fact: The Fangirl learned to draw from making fanart of all her favorite shipped couples. She doesn't believe she'll ever be as good as the mangaka (manga artists) whose work she reads, though. This may be due to the fact that she has almost no one to whom she feels she can show her work, for critique purposes.

Characters of Some Importance
These characters are not the main ones, but either influence them or the plot in some direct manner. Characters Seen In-Comic may be "promoted" to this position after directly affecting the plot.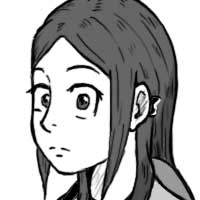 Rose Arting, first seen in Part 2, Page 2. Seems to be acquainted with Ryan and Jay, remarking that Ryan is more depressed "than usual," and that Jay usually cheers him up. Has some problem with Jay calling her "Rosie." Is apparently pretty smart, at least in Biology.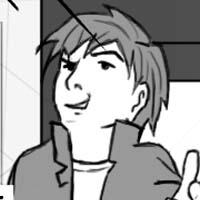 Kirk Lanherst, first seen in Part 2, Page 1. Antagonistic to both Ryan and Jay, and according to Rose, causes trouble "every morning" along with his friend G.C.. One of his casually homophobic taunts inadvertently hits a nerve in Ryan, still reeling from the events of Part 1.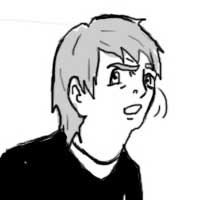 G.C., first seen in Part 2, Page 3. Friends with Kirk and laughs at his jokes, but is apparently critical of his dating abilities.




In Part 3, it is revealed that his real first name is "Gavin".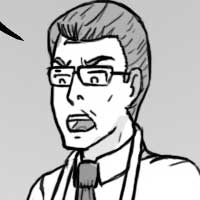 Mr. D, first seen in Part 2, Page 3. The no-nonsense teacher of Ryan and Jay's homeroom class, which, as Ryan's book would suggest, is Biology. Seems grumpy, but shows gratitude for Jay's help in opening the door, his right arm broken from unknown causes.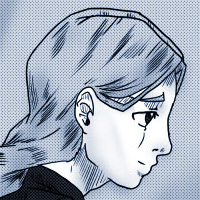 Victoria Laytey, first seen in Part 3, Page 9. Ryan's doting mother. She deeply enjoys being a wife and mother, but feels increasingly helpless to help her son with his personal issues. She prefers to be called "Vicky" among her friends, like Therise. Jay calls her "Mama Laytey", much to her consternation.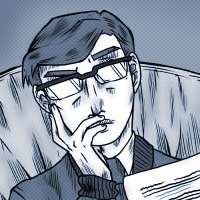 Roy Laytey, Jr., first seen in Part 3, Page 9. Ryan's strict father and Victoria's husband. He expects much from his children, and is unwilling to settle for any half-hearted effort on their parts. Due to the long hours required by his job, he only sometimes gets to eat dinner with his family, and he used that time in Part 4 to check up on Ryan's grades. He is on good terms with Jay, however, and considers him a good influence on his son.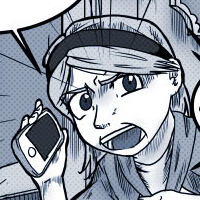 Alicia Laytey, first seen in Part 3, Page 10. Ryan's short-tempered younger sister. She has felt overshadowed by her brother when vying for their parents' attention since she was a small child, so she tries to stand out in other ways. Usually, these include some use of volume. Despite their differences, Ryan still feels a strong need to protect her. She maintains a crush on Jay born from when she first saw him in Part 3, and learned how to style hair by experimenting with his. Jay calls her Ally--the only preferred name he remembers.










Julius, first seen in Part 3, Page 49. The manager of New View Towers, the apartment complex where Jay and his mother, Therise, live. He is always wary of suspicious elements getting into the building, and knows all residents by face, and some, like Jay, personally. He somewhat tolerates Jay's presence, despite the latter commonly calling him "Jules". As of Part 4, he is recently divorced, but has an interest in Therise.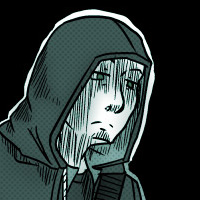 Fish, first seen in Part 3, Page 50. A questionable former neighbor of Jay's that lived a couple rooms down the hall at their apartment complex, before he was kicked out for unknown reasons likely related to his parole arrangement. In exchange for exorbitant amounts of money, he picked up various items for Jay from time to time, mostly cooking ingredients. Jay has always admired his well-toned physique, and over the years has learned a lot about working out from him. Ryan suspects that he may have been involved in drug dealing, and Fish in turn warns Jay that Ryan is a fair-weather friend.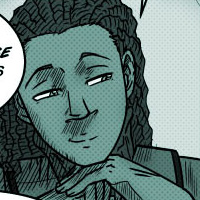 Therise, first seen in Part 3, Page 51. Jay's adoptive mother. She accepted guardianship of him from his biological mother when the latter was on her deathbed. Empathetic and perceptive, she has extensive training in social work, and currently specializes in social work for children. She responded positively to Jay's being gay and is permissive in general, but does have a strict "no-drugs" rule in her apartment, likely due to the nature of her job. Like Jay, she is originally from California.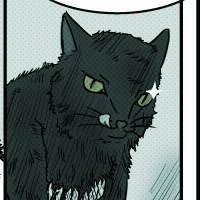 Munch, first seen in Part 3, Page 56. Jay and Therise's cat, a Bombay. Far above the petty concerns of her human handlers, the Obsidian Empress rules her domain with an iron paw.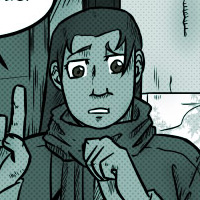 CeCe, first seen in Part 4, Page 23. Julius' daughter, and a new part-time employee at New View Towers. Thoughtful and enterprising, she is currently taking courses at a business school in the area, and thought working at her dad's company would be good experience. She took an amused interest in Jay when they first met in Part 4, and wonders about his relationship with Ryan upon meeting him. She herself is in a romantic relationship with Leonard Hamilton.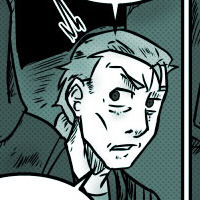 Ricky, first seen in Part 4, Page 27. A former business partner of Fish's. Unlike Fish, he was not kicked out of New View Towers and apparently has no trouble with the law. In Part 4, Fish visits him unannounced to collect some of the things he left behind.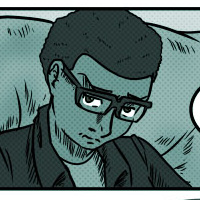 Howard Hamilton, first seen in Part 4, Page 28. The younger and far more cynical of the two Hamilton Brothers. Ever exasperated by the perceived stupidity of those around him, he has a very low tolerance for things that bother him, and will leave if bothered enough, as he did in Part 4 upon learning about Jay. While he barely tolerates Ryan and Jay, he has some respect for Therise, perhaps for her training and the work she does to help his family. Jay calls him "Howie", which he dislikes, and his brother calls him "Baby Ham", which he hates.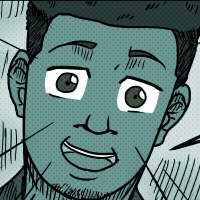 Leonard Hamilton, first seen in Part 4, Page 36. The older and much more gregarious of the two Hamilton Brothers. He is extremely friendly, perhaps to a fault, and prefers environments where everyone is friendly with each other. To that end, he will exercise his social and emotional skills to smooth over rough edges in conversations of which he is a part. He is most gifted in mathematics, and prefers to study the hard sciences. He met his current girlfriend, CeCe, at college while doing so. He goes by "Hammie" among friends.










Characters Seen In-Comic
This heading is simply for visual reference of all characters seen so far. Hover your cursor over each image for small info snippets.